Film Location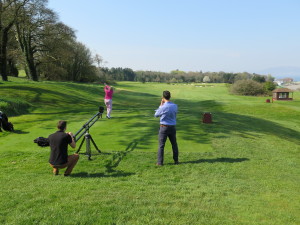 Over the years Royal Belfast has featured on a number of occasions in the media, both because of the beauty of our golf course, the striking neo-classical elegance of our clubhouse and also the suitability of our Tennis Courts which featured in the BBC Production of Modern Fairy Tales – Rapunzel  starring Charity Wakefield.
The Club has also been the location for several programmes on the Golf Channel; features for Tourism Ireland, and more recently, the latest NIKE advertisement featuring our very own,  Rory McIlroy.  This latest piece which, also features Tiger Woods is currently airing across the United States of America.
We are justly proud of the beauty and heritage  which epitomizes our Club and are delighted to share its many pleasures with visitors from around the globe.